A Message from Rick: Niall and Margeaux's Story
October 18, 2012
I'd like to share the story of a young Washington couple that I met last week. Niall Kennedy is a captain in the U.S. Army. Last year during a training mission with the 82nd Airborne Division, Niall's parachute malfunctioned and he suffered a severe spinal injury leaving him paralyzed below the waist.
That injury, as devastating as it was, came with a hidden cost. Niall and his wife, Margeaux, discovered that they need advanced fertility treatment to start a family because of Niall's injury, but the Department of Veterans Affairs will not provide that care. Now Margeaux, who told me it was her dream to be a mother, says they have had to put their family plans on hold.
Watch a KING 5 news report about the Kennedys here.
Niall and Margeaux's story is tragic, but they are not alone. Many veterans returning home from wars in Iraq and Afghanistan have severe injuries that make it difficult to have children. To add insult to injury, the VA is specifically forbidden from covering the fertility services that our wounded warriors need to start families.
These veterans have already paid too high a price in service to our nation. They should not have to pay a higher cost to have a family.
That is why Senator Patty Murray and I introduced a bill to give disabled veterans and their spouses access to advanced fertility treatments, including in vitro fertilization. Read more about the bill here.
As Margeaux said last week, "This has shocked me as yet one more sacrifice we, a childless couple, are expected to make and in this case, a completely avoidable one if the policymakers were to follow the charge of Senator Murray and Congressman Larsen."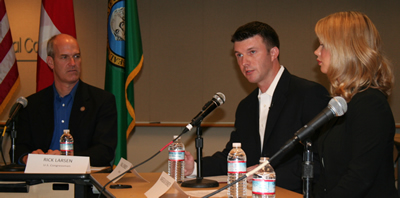 Rick listens to Capt. Niall Kennedy and his wife Margeaux.
As the parents of two boys, my wife and I know the joys—and frustrations—of raising a family. Our veterans should not be shut out of this rewarding experience due to injuries they incurred while serving our country.
As Senator Murray and I work to pass this commonsense bill, I want to hear from you. Tell me what you think about this bill on my Facebook page.
Sincerely,


Rick Larsen
United States Representative
Washington State, 2nd Congressional District