Press Releases
Larsen Launches Seven-Stop Affordable Care Act Tour Across Washington's 2nd Congressional District
Washington, DC, January 12, 2017
Congressman to hear from constituents, hospital administrators, healthcare providers, insurers, patient advocacy organizations and members of the faith community
Rep. Rick Larsen (WA-02) today announced he is launching a seven-stop Affordable Care Act Tour of Washington's 2nd Congressional District – holding a series of events to hear from constituents, hospital administrators, healthcare providers, insurers, patient advocacy organizations and members of the faith community about how Congressional Republicans' efforts to repeal the Affordable Care Act with no plan to replace it will affect Washingtonians.
Beginning Saturday, Larsen will hold events in towns and cities across Northwest Washington including: Mountlake Terrace, Bellingham, Anacortes and Everett. Event details will be announced in the coming days.
"The incoming Republican White House, Senate and House do not seem to appreciate the chaos repealing the Affordable Care Act will create for patients and providers," Larsen said. "Hearing directly from my constituents and sharing their stories with my Republican colleagues will help make it crystal clear that Washingtonians – from insurers to middle class families – are expecting Congressional Republicans to come up with a replacement that meets the coverage, quality and cost standards millions of folks rely on thanks to the Affordable Care Act."
Last week, Larsen launched a new online platform for Washingtonians to share their stories about how they or someone they know has benefited from the Affordable Care Act. More than 120 constituents have already shared their stories.
Watch Rep. Larsen's video message to Washingtonians HERE.
Larsen will use the stories to help beat back Republican efforts to take away healthcare from the 537,000 Washingtonians who gained coverage thanks to the Affordable Care Act, the up to 2,969,739 Washingtonians with a preexisting condition and millions more whose critical benefits and health costs are at risk.
After hearing from more than 15,000 constituents, Larsen voted in support of the Affordable Care Act in 2009 – citing its improvements to Medicare benefits for seniors, bans on discrimination based on preexisting conditions and potential to expand healthcare coverage for those who need it most.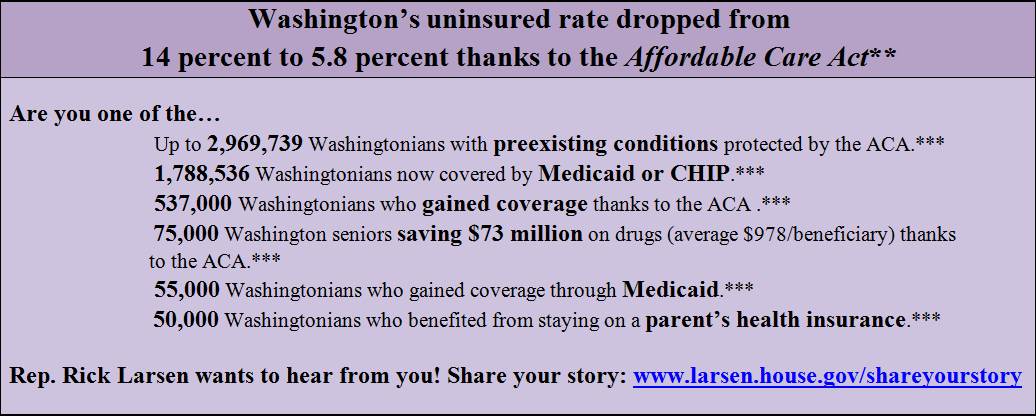 **Yen, Wei & Mounts, Thea. (2016, December). Second Year Impact of ACA on Washington State's Health Coverage (Washington State OFM Research Brief No. 80). Retrieved from https://www.ofm.wa.gov/researchbriefs/2016/brief080.pdf
*** U.S. Department of Health & Human Services. (2016, December 13). New Report Details Impact of the Affordable Care Act in Washington [Press release]. Retrieved from https://demcom.house.gov/sites/default/files/HHS%20State%20Press%20Releases%20on%20ACA.pdf
###