Update on the I-5 Bridge Collapse
Dear Neighbor,
I was shocked Thursday night to learn of the collapse of the Interstate-5 bridge into the Skagit River. I applaud the excellent response by first responders and the coordinated effort between local, state and federal officials in the last few days. We are lucky that the three victims of the collapse did not sustain more serious injuries and that no one died in this horrific incident.
I would like to briefly update you on the way forward.
First, please know that Skagit County and the rest of Northwest Washington are open for business. While the bridge repairs and I-5 detours will slow down traffic a bit in the coming weeks, businesses from Burlington to Bellingham and from Sedro-Woolley to San Juan Island are open and eager to serve customers. With summer just around the corner, it's a great time to get out and enjoy all that our region has to offer.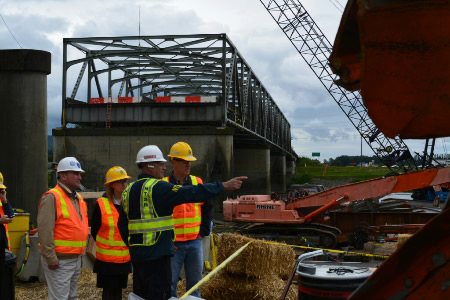 I visited the bridge earlier this week with top state and federal officials. The state has a plan to temporarily repair the bridge by mid-June and fully repair it by this fall. The Washington State Department of Transportation has created this website to provide updates on the repair progress as well as traffic information in the region.
I spoke to U.S. Department of Transportation Secretary Ray LaHood immediately after the collapse and he assured me that federal funding and permitting will be expedited for the repairs. I will continue working with state and federal officials to ensure the bridge is repaired quickly and safely. Federal investigators are at the scene and are learning more every day about why this happened and how to prevent future incidents like it.
A lot of businesses in the area lost customers who chose to stay away from the area over Memorial Day weekend. These businesses may qualify for special economic injury disaster loans through the U.S. Small Business Administration. Washington state is collecting data from businesses in the region that may have suffered losses because of the collapse. Business owners can visit this website to learn more about how to submit information.
The I-5 bridge doesn't just connect Burlington to Mount Vernon. It connects the entire West Coast and is a vital trade corridor between the United States and Canada. Seven in 10 trucks that cross the border in Blaine end up using this bridge, carrying $14 billion in international trade each year.
I am committed to making sure this bridge is repaired so folks like you can get their commutes and leisure travel back on track, and so commerce keeps flowing in Washington state.
And when I go back to Congress next week, I will be telling my colleagues about what happened in Skagit County and will continue to make the case for investing in our roads, bridges and highways so incidents like this don't happen here or anywhere else again.
If I or my office can answer any further questions or provide assistance, please call (360) 733-4500.
Sincerely,



Rick Larsen
United States Representative
Washington State, 2nd Congressional District